General News
Why Foreign Affairs Minister Ayorkor Botchwey thinks the world faces difficult choices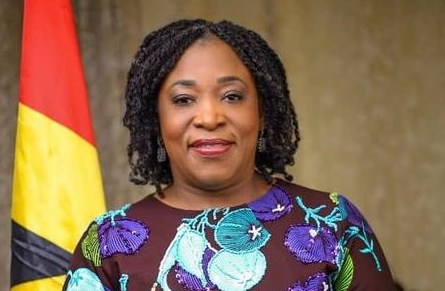 Minister for Foreign Affairs and Regional Integration, Shirley Ayorkor Botchwey has advocated for the United Nations to adopt a new and innovative template for success.
"That template should take into account the factors that make peacekeeping operations almost permanent, and why individuals and communities become susceptible to radicalisation and recruitment as terrorists, driving the new face of threats to international peace and security," she said in her address to the UN Security Council.
In the address, she titled "We are running out of time", Mrs Botchwey said beyond the events in Ukraine, the world cannot forget about the lack of resilience of the economies in which the majority of the global population live as exposed by Covid-19, as well as terrorism.
She said for instance that in the Sahel and coastal West Africa, countries that were the most successful in reaching striking distance of the UN's Sustainable Development Goals (SDGs) now find themselves struggling, as poorer countries rather shoulder the worst impacts of the Covid-19 pandemic, Climate Change and conflict in Europe.
She said "High fiscal deficits, escalating debt and downturns in economic activity are pushing us out of the bond markets at a time when inequality soars and unemployment and underemployment of millions is turning frustration into hopelessness.
"Increasingly, even some among the middle classes in Africa and other developing countries are beginning to lose faith in the democratic systems they fought so hard to establish.
"The road back to robust growth, which Ghana and a number of African countries experienced successively in the years before COVID-19 struck, is currently a choice between the devil and the deep blue sea.
"We have to either impose IMF-guided austerity, potentially leading to labour retrenchment and accompanying social instability, as witnessed in Argentina and elsewhere, or home-grown yet equally tough decisions to satisfy the markets and, hopefully, pave the way back to a functioning economy.
"The harsh sacrifices required, themselves, have become a source of instability and an invitation to malign actors.
"In the Sahel, climate-induced insecurity, poverty, high illiteracy rates and education that neither teaches skills nor a culture of peace and non-violence (SDG Target 4.7), youth unemployment and the absence of the State in large swathes of territory have created the environment in which terrorists thrive and undermine the effectiveness of the kinetic military operations to root them out."
She maintained that these developments make it clear that the critical need to fill the security gap brought on by economic and other root causes of conflict, should be a priority for the promotion and maintenance of international peace and security.
Click to read Shirley Ayorkor Botchwey's address in full
DISCLAIMER: The Views, Comments, Opinions, Contributions and Statements made by Readers and Contributors on this platform do not necessarily represent the views or policy of Multimedia Group Limited.