General News
U.S. provides new support for public health emergency in Volta Region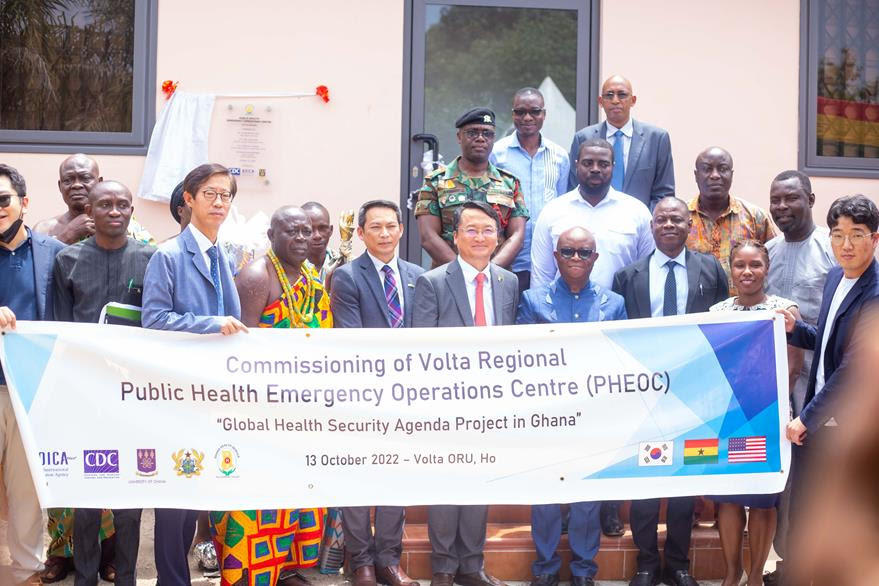 The U.S. Government, through the U.S. Centers for Disease Control and Prevention (CDC), has commissioned the Volta Regional Public Health Emergency Operations Center (PHEOC) in Ho. 
This is the fourth such center that has been opened in Ghana since 2021.
The operations center represents a collaboration between the governments of the United States, South Korea, and Ghana.  The $200,000 Volta Regional Public Health Emergency Operations Center is the fourth regional center commissioned in Ghana – three other centers have already opened in Kumasi, Sekondi, and Tamale.
Representing the United States, CDC Country Director Dr. Tony Ao joined Volta Regional Minister Dr. Archibald Yao Letsa, Ghana Health Service Director-General Dr. Patrick Kuma-Aboagye, and the Republic of Korea Ambassador to Ghana Lim Jung-taek in the commissioning of the Volta Regional Public Health Emergency Operation Center (PHEOC) in Ho on October 13.
"Public health emergency operations centers play an integral role in the coordination of responses to public health threats, such as Marburg virus disease, COVID-19, polio, and monkeypox.  These recent outbreaks underscore the need for a network of regional coordination centers to improve data sharing that drives decision-making, informs national policy, and allows rapid response to new emergencies," said Dr. Ao.
PHEOC serves as the central command center and brings together important stakeholders and experts for coordinated responses to public health events and threats, like COVID-19, polio, and Ebola.  It provides real-time data analyses and visualisations that promote evidence-based decision-making. 
Regional PHEOCs are a part of a sustainable approach to building a resilient and responsive public health infrastructure in Ghana and will link with the national PHEOC for mutual and timely sharing of critical pandemic and health emergency information.
These centers are a clear example of how strong partnership can advance the Global Health Security Agenda (GHSA) through leadership of the regional authorities and Ghana Health Service and technical assistance from CDC with support from the Korean International Cooperation Agency (KOICA).
The GHSA is a group of 70 countries (including Ghana, the Republic of Korea, and the United States), international organizations, non-governmental organizations, and private sector companies that have come together to achieve the collective vision of a world safe and secure from global health threats posed by infectious diseases.  Establishing a network of PHEOCs is one of the key strategies of GHSA.
CDC plays a leading role in implementing the GHSA through its work to prevent, detect, and respond to infectious disease threats.  The U.S.-Ghana bilateral partnership has grown stronger through technical expertise and critical infrastructure that has allowed Ghana to rapidly respond to epidemics and save lives.
From vaccines to oxygen equipment to long-term health infrastructure investment and coordinated health information, the United States Government has made a decades long commitment to Ghana's public health systems.  This includes life-saving initiatives such as GHSA, the U.S. President's Malaria Initiative (PMI), and the U.S. President's Emergency Plan for AIDS Relief (PEPFAR).
DISCLAIMER: The Views, Comments, Opinions, Contributions and Statements made by Readers and Contributors on this platform do not necessarily represent the views or policy of Multimedia Group Limited.