General News
JUST IN: Ghana-Bound Vessel With Stolen Crude Oil Destroyed in rambo style | Photos
A Ghana-bound vessel, loaded with about 650 cubic metres of stolen crude oil, was destroyed, yesterday, in the creeks. The vessel was arrested with eight crew members and the captain while stealing crude oil from the Escravos-Abiteye trunk line.
According to a maritime intelligence consultant working for Tompolo's outfit, Tantita Security Services, Capt. Warren Enisuoh, the vessel had been coming into the Niger Delta and loading illegal oil to Ghana, where it is offloaded at Tema ports.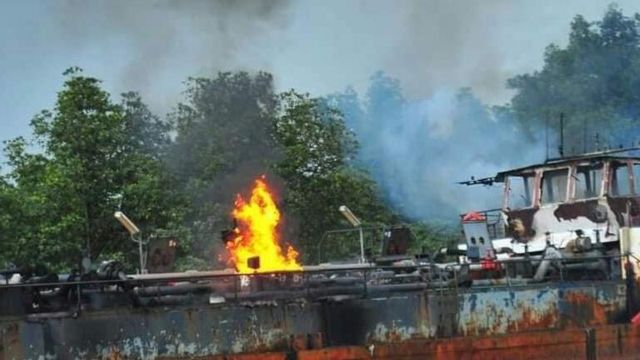 He said: "For quite a while, we have been monitoring the vessel in Nigeria waters. It has been frequenting the Niger Delta and carrying illegal crude oil to Ghana, precisely, Tema.
"So an ambush was laid for this particular vessel on October 6. What happened was that they came in to load and they brought the ship from Escravos and went up along the creek, where they didn't know we were waiting. We allowed them to connect the hoses from the Escravos/Abiteye pipeline and from there they started pumping crude into it. They were taken by surprise.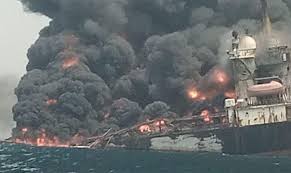 "The line, where they were stealing crude, is a major pipeline that goes to the Chevron terminal.
"The boat had 12 compartments but at the time they were caught, they've managed to load five compartments." He said the vessel was carrying about 650 cubic metres of crude oil, separated into various compartments.
The oil thieves, according to him, couldn't finish the illegal operation as a result of the arrival of Tantita Security Services belonging to ex-Niger Delta militant, Government Ekpemupolo (a.k.a Tompolo).
He said the eight persons arrested would be handed over to appropriate authorities for prosecution.
The captain of the vessel, who introduced himself as Capt. Temple Manase, said the vessel was hijacked by some people, who forced them to load the crude into the vessel.
Source: The Guardian /Nigeria