News
How a crack in Kenya is splitting Africa in two
How a crack in Kenya is splitting Africa in two
For many years, geologists have been aware of the tectonic plates moving apart along East Africa, but, in 2018, new evidence emerged. Following a number of meteorological events, a huge fissure opened in the Great Rift Valley region of Kenya. The crack damaged roads, left people homeless, and, perhaps most significant of all, provided a clue about what might happen in the next five to 10 million years: Africa will be split in two.
Intrigued? In this gallery, we bring you all the details about the crack in Kenya, as well as its effects and resulting scientific predictions. Click on for more.
The crack
The crack was first noticed on March 18, 2018, following heavy rainfall in the Great Rift Valley region of Kenya. Until then, the crack was covered with volcanic ash and therefore remained hidden from view.
Region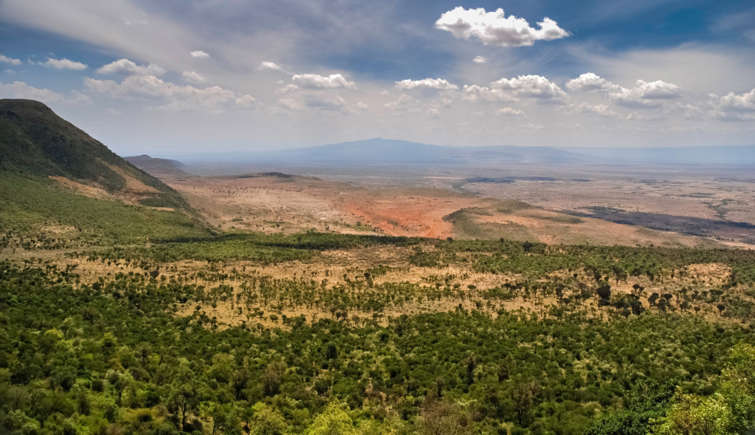 The low-lying Great Rift Valley is a region where tectonic plates split or move away from one another. And this is no surprise.
East African Rift System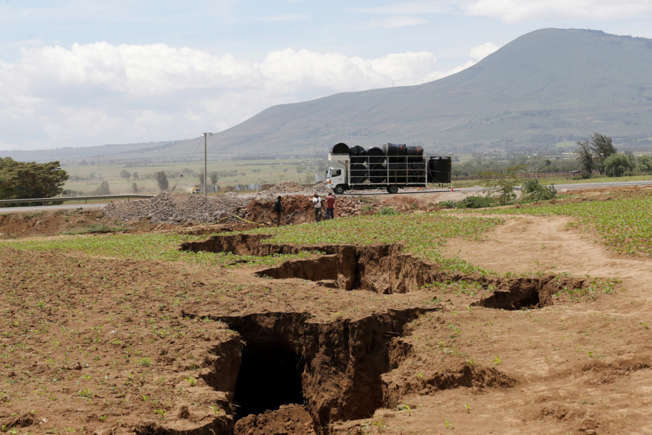 The Great Rift Valley is part of the East African Rift System, a large rift that stretches for 4,000 miles (6,400 km) and is 30–40 miles (48–64 km) wide. The rift extends through multiple countries.
How it happened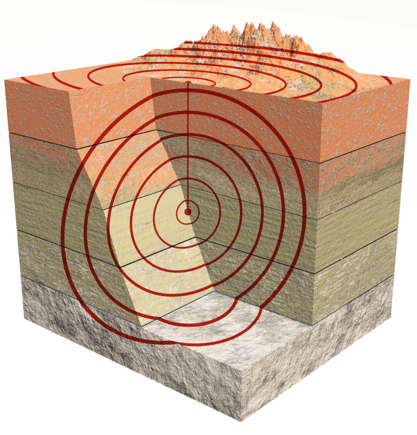 The massive fissure is caused by a strong movement deep inside Earth. This movement resulted in deep, visible cracks appearing in Narok County, Kenya.
Damaged road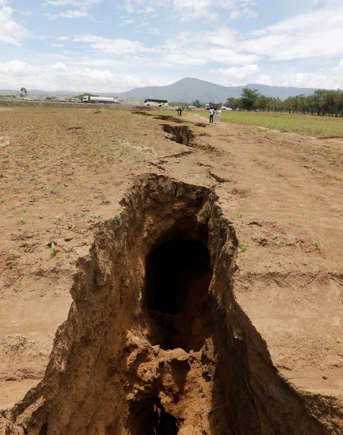 Signs of damage were first identified on Mai Mahiu-Narok road. According to local reports, the crack was 50 ft (15 m) deep and over 65 ft (20 m) wide.
According to the Kenyan newspaper the Daily Nation, some families who live near the crack have started to move. Local resident Mary Wambui, 72, feared that staying there was a risk not worth taking.
Wambui recalled her experience; she was having dinner with her family when the ground started to split open and divided her house in two. According to Reuters, another local resident, Eliud Njoroge Mbugua, also said that the ground split open inside his house.
Following weeks of heavy rain, flooding, and tremors, additional cracks began to appear in the city's main road, Reuters reported.
Mbugua from the city of Mai Mahiu recalled how his wife shouted and asked the neighbors for help carrying their belongings when they first saw the cracks appear in their home.
The house became so unstable due to the cracks that in the following days it had to be demolished. Geologist David Adede said in an interview that the fissure had previously been filled with volcanic ash. Heavy rains then washed the ash away and exposed the cracks.
In his interview with the Daily Nation, the geologist added that tectonic and volcanic activity were nothing new in the Great Rift Valley.