General News
GES Boss sacking: You've sacrificed an innocent man – Vim Lady
Award-winning journalist Afia Pokuaa known widely as Vim Lady has expressed surprise at the sacking of the Director General of the Ghana Education Service (GES) Professor Kwasi Opoku-Amankwa.
In her opinion, Prof Opoku-Amankwa is an innocent man who is being sacrificed while persons wreaking havoc in the country have been left to go scot-free.
"Those who are messing up this country are sitting comfortably but you choose to sacrifice an innocent man, Eiiiii. God has seen us all," she reacted on social media to the sacking of Prof Opoku-Amankwa.
In a letter dated October 17, 2022 and signed by the Secretary to the President, the President relieved Prof Opoku-Amankwa of his post as Director General because the Ministry of Education found his skills and expertise no longer useful and that that extension of his tenure as Director General in 2021 was in error as it contravened provisions governing the Public Services Commission.
But for Afia Pokuaa, a fierce critic of Governments, Prof Opoku-Amankwa is being dealt with while persons messing up the country are left off the hook.
It is unclear who Ms Afia Pokuaa is referring to as those messing up the country, but there have been repeated calls on the President to sack non-performing Ministers such as the Finance Minister Ken Ofori-Atta, who has been accused of running the economy aground.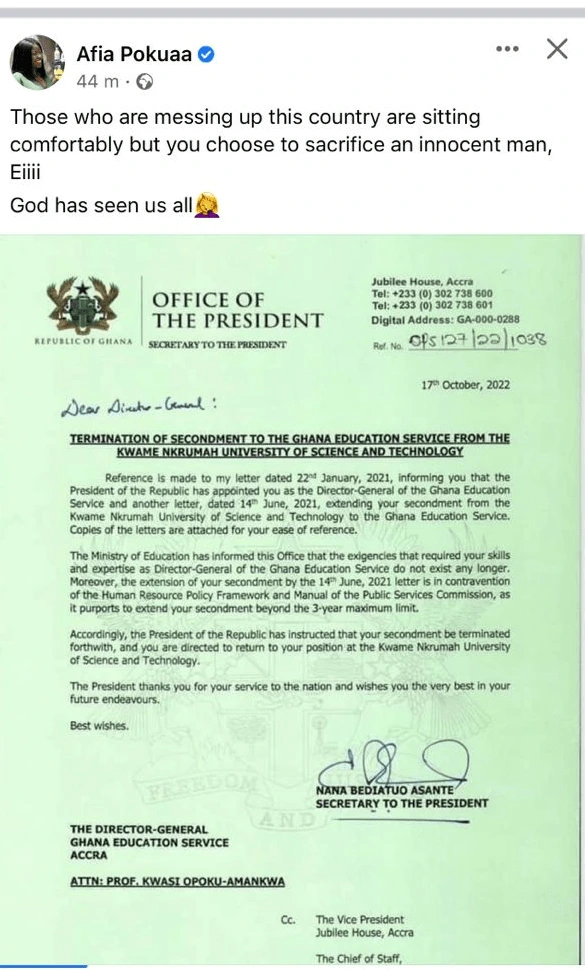 Source: MyNewsGH