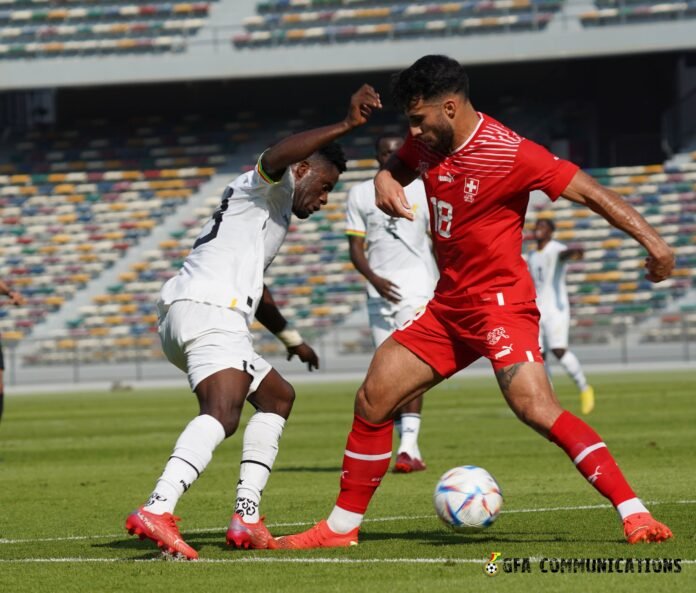 It was a match in which many expected to see the starting IX, Ghana will potentially feature in our first game against Portugal. Instead, Otto Addo and his technical team decided to show us the depth of the squad many have been critical of, prior to its official naming. Though just a friendly, the win gives the team, a confidence boost going into the World Cup. Switzerland, however, fielded their potential starting IX, a team ranked 15th in the world by FIFA. The Nati, before meeting the Black Stars, had beaten Portugal, Spain, and the Czech Republic in their last 3 games. They also knocked out France in the 2020 Euros on penalties.
That being mentioned, here are five things learnt so far about the current Black Stars from the Switzerland game.
 1. Otto's Compact-Start & Explosive-Finish Approach
 Coach Otto Addo's nine games in charge, especially those against high-profile opponents like Switzerland always start compact and cautious. Many would even go as far as to say, a little too cautious. It always looks like he worries more about his opponents than allowing his young squad to express themselves. It seems more like a tactical plan to stay in the game long enough, before bringing on the young and energetic fresh legs from the bench, to press tiring defenders. Doesn't always work, but a win off that approach against Switzerland, makes it guaranteed to be used again – against Portugal, most likely.
 2. Jordan – Otto's Handbrake
 If Otto is going to stick to the above tactics in the World Cup, Ghanaians might as well get use to nagging about Jordan starting games. This is because; he is what I'd like to call the team's "handbrake" on quick attacks that lead to losing possession. Jordan seems to be given the role of protecting the right-back position and making sure the team keeps control and possession of the ball. This role often brings a lot of criticism his way because he is still thought of him as a winger, and expected to make more progressive plays and give quick passes when he gets the ball.
 While in the end, it was a win against Switzerland, It also begs thinking if Otto should consider switching the tactics the other way round – Starting games on attacking fronts with the likes of Kamaldeen, Semenyo, Kamal Sowah, Osman Bukari, or Issahaku, to ensure we get ahead and then deplore his "handbrake" to see out the games.
 3. Midfield Buffet
One of those cases where you go to a party and all the dishes looked so delicious you wished you could have bites of all but your stomach can only accommodate so much. Our two considered best midfielders – Thomas Partey and Kudus Mohammed played zero minutes in this game, yet, not a single complaint about their absence was made. Elisha Owusu and Salis Abdul Samed were that good. An equally delightful third course, the dessert if you would, in Kofi Kyereh, with his comfortable glide on the ball, came on to prove yet again why he should be starting in that midfield. Looks like a good headache for the technical team going to Qatar.
4. Inaki Worry?
 Mr. Williams is yet to have a big moment since his debut. Though he had some bright moments in the first half, it looks like he might need some time to settle in, with regard to how he is used to playing with his club side. Perhaps the first half's compact tactical approach disadvantaged him a bit, as far as getting service was concerned. The second-half's expansive play which came with long balls and line-breaking plays, would have benefited him a great deal. A typical example was the chance Kamal Sowah's pass created for Kamaldeen – one you would bet on him to put past Yann Sommer.
 5. Barnie – More than a GPL Economic Chess Move
 Barnie's selection into the World Cup squad was largely considered and accepted as financially sensible. – To get some funds for his local club side. Though, Hearts of Oak fans would argue he deserved the spot regardless, per his quality. That quality was on full display in the first 45 minutes, in which he featured. Fair to say he impressed more than most Ghanaians expected. He was the brightest performer in the half – keeping the Swiss defence busy with his play and positioning in spaces up front. He looked like a good piece Otto could use off the bench when needed.
The win and performance, in general, will build a positive vibe around the squad heading into the 2022 World Cup in Qatar. Hopefully, it helps them sail through the group stages and beyond.
By: Dennis Kemevor, a sports enthusiast
Source: Ghana/Starrfm.com.gh/103.5FM